Get paid by Payoneer
, 2013/01/29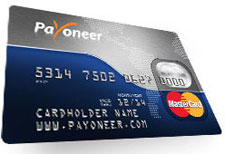 Update as of April 28, 2020: Payments through Payoneer are not supported starting May 5, 2020
. All the information below is outdated.
------
Cliparto can send payouts to your Payoneer card now! If you have a Payoneer debit card already, you can just link it up as a payment method in your account settings. If you have not applied for Payoneer card yet, we`re extremely excited to announce that Cliparto and Payoneer are now having a great promotion together!
Sign up now, and Payoneer will waive the one-time activation fee if you sign up within 30 days of this announcement.
Enjoy the benefits of your Payoneer Prepaid MasterCard®:
Funds are available on your card within 2 hours after the payment was sent
No bank account required
Account held in US dollars
Funds are secured
Use online, in stores or get cash at any ATM that accepts MasterCard®
Online access to your account, payments, balance and transaction history 24/7
24*7 multilingual customer support
To learn more visit the
FAQ
on Payoneer`s website.
Also Payoneer provides the US Payment Service upon request, which allows the bank transfers to the card from the major companies in the world, including money transfer from PayPal and MoneyBookers accounts.
You can apply for new card or add an existing one in the
Payouts
section. Just change your method of payout and select Payoneer.
Comments (9)
* You need to log in to submit comments