Data export to CSV files
, 2012/05/02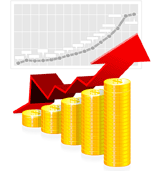 The more images in portfolio and the more the images sold, the more urgent becomes the maintenance of detailed statistics and analysis of downloads.
There is special statistics section at contributors` account at Cliparto, where contributor can view the results of each calendar month with summary of the portfolio size, its growth, the total number of downloads and downloads by different types.
Many photographers and illustrators have own methods to record and analyse their images and sales in photo agencies. We believe that our new option available at Cliparto will be useful to such record-keeping and analyse purposes. We enable now the opportunity to export data to CSV files for a certain period.
At the moment we have implemented the ability to export the two blocks of data:
- information about the approved images at Cliparto with the numbers of downloads, the earned amount and the number of views for all time;
- as well as information about the downloads for all time or a specific period.
We also welcome to consider suggestions for other tools that are probably helpful for use at Cliparto.
Comments (0)
* You need to log in to submit comments