Cliparto's Statistics
, 2012/06/09
We are growing steadily each month on all indicators. We are glad to see the increase as for the total number of images on the site, both the number of downloads and the number of visitors. Thus, in May 2012 compared to April the number of downloads increases as +9.62%. Probably in the summer our growth will slower, but we look confidently to the future.
Of course, our figures are not comparable with the market leaders. But we could not have achieved even the current level without the trust of both the contributors and buyers.
We strive for more openness to our partners and launch the
section with statistics
for the previous calendar month. It is always possible to see now the actual numbers there.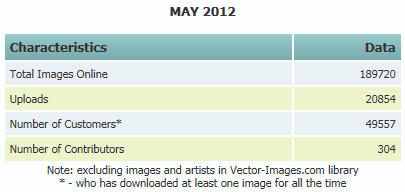 Comments (0)
* You need to log in to submit comments